Pornstar Info
Videos with Summer Brielle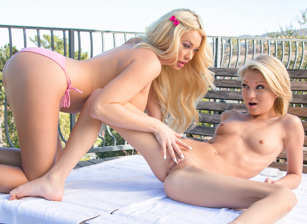 Description :
Summer and Courtney have hung out many times since their fling at the spa, and even started up an exclusive relationship. The hot blondes are used to being alone in their backyard, but when the cute teen who's just moved in next door shows up, they can't keep their hands to themselves. Courtney gets a brilliant idea that will ensure that she and Summer will have something to smile about later. Courtney shuffles off to go grab some beverages for their hangout, but instead sneaks into the bushes to film Dakota as Summer puts her lesbian advances on her. Dakota is excited to hang out with the blondes that could be twins, curious to see what they do to pass the time. Summer takes the opportunity while Courtney's 'away' to give Dakota a massage in the afternoon sun. How far do you think Summer will be able to push Dakota to cheat on her boyfriend? Watch to find out!
Categories :
Blonde
,
Big Tits
,
Natural Tits
,
College
,
Tattoos
,
Lesbian
,
Massage
,
Oil
,
shaved pussy
,
hd porn
,
outdoor
,
skinny
,
pussy eating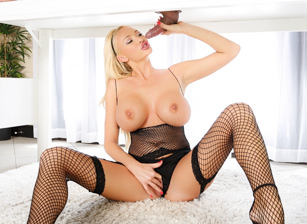 Description :
Marco is very sad today. He hasn't had sex for months because his wife is always busy. Summer takes him into the massage room and undresses him, clearly horny when she sees his body, assuring him that he needn't be nervous, and touching his body with her gentle fingertips. She guides him up onto the table where she starts to massage him a bit before taking his huge cock in her warm hands and mouth until he cums from the incredible sensations Summer coaxes from his swollen balls. Next, she crawls under the milking table and finishes his session off with an expert cock milking using her deep warm throat!
Categories :
Blonde
,
Big Tits
,
Masturbation
,
Blowjob
,
Deepthroat
,
Cum in Mouth
,
Big Dick
,
Handjob
,
Massage
,
Oil
,
shaved pussy
,
cock milking
,
open mouth facial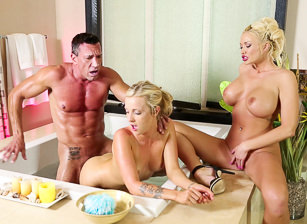 Description :
When his personal servant comes in to the Nuru Spa, Summer Brielle is caught off guard. Nothing is too much for her to handle though, when Eric mentions that the Sheik is willing to pay any sum, she is happy to accommodate the rich foreigner...

The Sheik is happy that his servant has found him a massage, so they pack up and fly to California for the rubdown. Summer is ready for her customer, but the Sheik's entourage are not ready for her. When the Sheik is finally undressed, the massage starts with his cock, and Summer is prepared to meet his every need. At each stage of the massage, Summer has prepared him a different girl, each with specific talents, and a warm tight pussy to fuck. By the end, the Sheik must be in heaven, all three girls tending to his every need, and helping him relieve more than just the tension he got on the flight to the spa from the Middle East.