Pornstar Info
Videos with Ariella Ferrera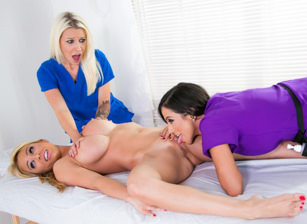 Description :
Mia Leilani is getting four hands for the price of one today. The head masseuse at the spa is training her new masseuse today. Mia is a returning customer, so she knows exactly what to expect. The new girl is learning quickly, and Mia is experiencing pure bliss with two hot masseuses palming her soft skin, and working it deep and long. Mia loves every minute. All is well until the head masseuse goes down on Mia to massage her tight pussy with her tongue. The new girl is taken back in confusion, but it doesn't take long for the conspirators to break her.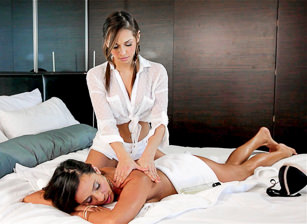 Description :
Ariella can be a tough one to please. Sara has her work cut out for her. The bubbly young masseuse is fresh from the farm with her pigtails intact. Ariella is interviewing girls to be her personal masseuse, and her assistant doesn't seem to be sending them her way quick enough. The exasperated Ariella is just about ready to quit her search and give up the thought of eternal relaxation forever when Sara walks in. A few questions later and Ariella has found a glimmer of hope with the cute teen standing directly in front of her. Ariella gets curious when Sara tells her she can be here any time. The massage starts and Sara gets a sense something is not the same as when she rubs the knots out of farmer's backs! Ariella clearly has something up her sleeve when she asks Sara to take off her clothes! Let's just wait and see how far Sara will go to get this job!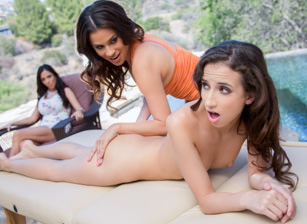 Description :
Belle Knox's mom Ariella Ferrara is eager to have some girl on girl time, so she guides Belle away from her studies and points her in the right direction. Ariella has scheduled a wonderful massage for her daughter to try and get her to turn down that cranky attitude she's had ever since her school finals have been on the radar. Ariella fakes a math club meeting, and drags her daughter to the best spa in town! Vanessa Veracruz from Sapphic Bliss is an expert masseuse. Ariella explains her plan to Vanessa about getting Belle's head out of the books, and soon the massage is underway. The oblivious Belle is quick to let loose under Vanessa's expert fingers, and lets Vanessa remove her underwear to get closer to the problem areas. Ariella and Vanessa's little secret is coming to a head, and before too long, Vanessa has made Belle so comfortable that her ensuing pussy massage is entirely what she is asking for. Not long after, Ariella is fed up with waiting Watch her join in, teaching Vanessa how to touch her daughter and teaching Belle how to please her stunning masseuse!
Categories :
Pussy Licking
,
Big Tits
,
Brunette
,
MILF
,
Threesome
,
Foot Massage
,
Lesbians
,
Natural Tits
,
Teen
,
Massage
,
Ass Massage
,
Cunilingus
,
HD Porn
,
Member Fantasy