Pornstar Info
Videos with Cassie Laine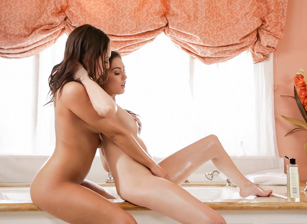 Description :
After her threesome with Britney and Cassie, Sara has been daydreaming of Cassie. Cassie feels the same way. Sara sends Cassie a pic of her tits, coaxing her to come over while Britney is at work. Sara has got some balls inviting Cassie over while they cheat on Britney. They can hardly get up the stairs with how passionately they are kissing. It's clear that all Sara has in mind is making it to the bed. Cassie, being the cautious of the two, suggests they go to the bed instead. Cassie is ready to have some fun, and as soon as she gets an idea her clothes are off, teasing Sara as she strips down oiling herself up before peeling off Sara's clothes. Both gently caressed by the soft light and the other's gentle hands, they begin to rub themselves with oil, while erotically caressing one another, another and worshipping their soft skin and perfect curves. Their passionate embracing slowly morphs into the passionate thralls of erotic sex. Sara, masturbates Cassie, using her palms to coax from Cassie's now sopping wet shaved pussy an intense orgasm. Cassie' lies Sara down, taking her pussy and clit into her warm mouth to savor her sweet passion fruit, Sara counteracts on Cassie, tasting her pure pussy juices. Their passion is clear, the only thing left to decide is what to do next?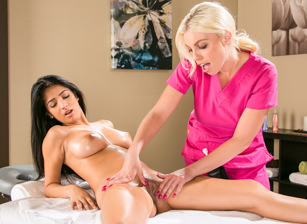 Description :
The beautiful Megan Salinas goes to the Gamma Spa to get a full body massage from the pretty blonde Brittney Amber. It is a massage like never seen before, very hot and sensual. After massaging for a while, Brittney will get to highly sensitive areas that will turn the pretty dark skinned Megan on. Those two big breasted ladies will end up eating each other. What an orgasm, way better than any massage you can ever get!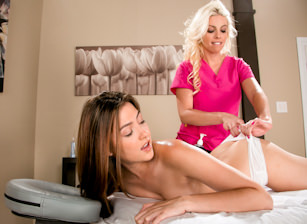 Description :
This is Cassie's first ever visit to the Gamma Spa and she's a little shy about the experience at first but in the talented hands of Brittney her inhibitions melt away with the first few soft strokes of her beautiful petite body. Brittney isn't exactly immune to Cassie's superb natural forms either and can't help herself from exploring it's sexy nooks and crannies and eventually just giving in to the temptation for a little taste. Just like the best stories, this one has an Happy Ending!