Pornstar Info
Videos with Chloe Foster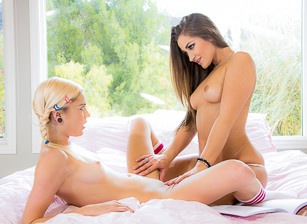 Description :
Chloe Foster's Social Studies exam is tomorrow. She isn't a fan of Social Studies which makes it all so hard to study. Who memorizes useless statistics anyway? Dani Daniels! that's who and she's not shy about being a smarty-pants with her thick glasses and her preppy cardigan! She's got other tricks up her sleeve too as we'll soon find out. Chloe is desperate for some much needed study help and Dani is just what the doctor ordered. Dani shows up to Chloe's bedroom ready to blow Chloe's mind with her wits and her tits.

Dani shares that she's a lesbian and Chloe's eyes light up with curiosity. Curiosity may have killed the cat, but curiosity has a much different gift for Chloe today. Dani lets down her hair to get more comfortable meanwhile Chloe is intent on sizing up her smoking hot college tutor. More curious about college than anything else, Chloe practically grills Dani on her experiences. Realizing Chloe has something for her, Dani sizes up the possibility of getting a bit rowdy with Chloe. Chloe is all for it! Anything would be better than her Social Studies. It doesn't take long before they're caressing one another tenderly and making out on Chloe's crisply lit bed. Realizing she's not working with an amateur Chloe gets more excited than ever. Dani slowly stimulates the erogenous zones around Chloe's soft ears and her long neck. Next, Chloe's small and supple tits get a chance in Dani's expert mouth.

Chloe's clothes continue to fall away from her body as Dani undresses them both. Taking a moment to taste every inch of Chloe's torso, Dani takes off Hhloe's shorts and underwear, as well as her own bra and moves in for 'the kiss.' The most succulently sweet kiss of Chloe's tender ripe peach. Dani knows what she's doing, and instantly Chloe's moans fill the space. Dani guides her into ecstasy with her gentle hums and her fervent licking. As Chloe's torso begins to contract we can see her amazed at the expertise of the beautiful college babe. Chloe lets her orgasm come savoring every last muscle contraction. Dani is eager to let her own pussy come to the party, so she shifts to bring them both face to face, pussy to pussy. As the two rub one another's inflamed snatches together the moaning and breathing grows fast and high-pitched. Chloe climbs a top Dani's face and Dani plunges her tongue deep within the horny young lady. Chloe is in heaven but wants to give Dani a try. She gives Dani a kiss to taste her own wet pussy which gives her the urge to go down on Dani. Dani is obviously a wonderful tutor. Chloe knows exactly what Dani wants and is able to bring her to orgasm with a suck or two and a brisk flick of her tongue. Chloe is an expert already. It's really too bad it wont help her on her exam.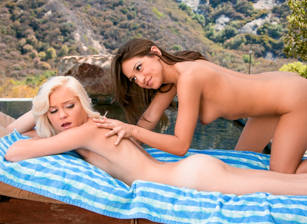 Description :
Chloe Foster and Sarah Luv take a lot of pride in their gorgeous sun kissed bodies and every chance to get out in the sun is top priority for them both. Chloe is shy, there's no two ways about it... She is self conscious when it comes to nudity and when Sarah whips out her boobs and oils them up, Chloe is embarrassed. But today all that changes.

Sarah heckles Chloe into laying down so she can rub some of the stress out of the crazy woman. Chloe, still tense, allows Sarah to peel her clothes off. Once Sarah gets a glimpse of Chloe's perfect behind she can't resist pouring more oil over the juicy rear. Chloe gradually gives way, relaxing more with every minute. Sarah makes sure to put the oil everywhere, including Chloe's soft pussy. Chloe is caught off guard, but easily gives Sarah permission to keep up the rubbing. As Chloe flips onto her back she exposes her pretty breasts to Sarah who doesn't hesitate to rub the oil over them too. Sarah is getting hornier as she guides Chloe's hand to her breasts. Finally, Chloe releases all her tensions and inhibitions with Sarah and they begin to kiss. Sarah throws herself between Chloe's legs and continues the massage with her tongue on Chloe's sweet shaved pussy. Chloe reciprocates, giving Sarah a pussy massage with her succulent warm mouth. They finish on a high note in sixty-nine, reaching orgasm together screaming into the fresh sunny afternoon. They wash off in the pool in a sensual embrace.
Categories :
Oil
,
Kissing
,
Pussy Licking
,
Blonde
,
Brunette
,
69
,
Lesbians
,
Fingering
,
Natural Tits
,
Teen
,
Massage
,
Member Fantasy