Pornstar Info
Videos with Tanya Tate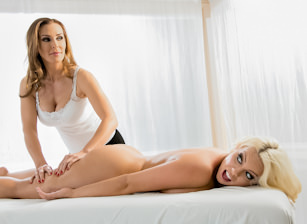 Description :
Britney has been through some rough stuff lately, so she came in for a full release treatment. Tanya is an expert at recognizing Britney's tension and pain. Britney finds Tanya's techniques a bit awkward, but they'll prove fruitful in the end, when Britney gets exactly what she came in for. When the Massage begins it doesn't take long before Britney is relaxed, and enjoying each and every touch Tanya places on her sensitive body. Tanya's soothing voice and soft hands put Britney in a deep relaxing trance. It's only when Tanya gets to Britney's beautiful pussy that Tanya lets her imagination run a bit wild. Just wait until you see what Tanya gets up to when her passions get in the way of business. She's lucky Britney came for the full release treatment!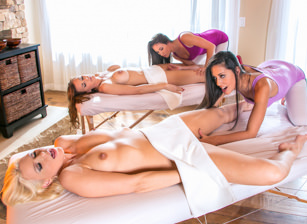 Description :
We here at AGM are proud to present this special edition Member Fantasy inspired by one of our most popular submissions to date. This first time ever foursome for All Girl Massage is sure to please.

Tanya and Anikka drive up to the Sapphic Bliss spa for Mother's Day. Lyla and Lizz have been waiting for them all morning for their arrival. Tanya was sneaky and made sure they would have the whole spa to themselves today. Annika proves to be shy, uninterested in bathing naked with her mother, she averts her eyes. As the sensual massage progresses, we see the expert masseuses become progressively excited by their clients. The spa isn't called Sapphic Bliss for nothing.
Categories :
Oil
,
Pussy Licking
,
Big Tits
,
Blonde
,
Brunette
,
Tattoo
,
MILF
,
Body Massage
,
Jacuzzi
,
Foot Massage
,
Lesbians
,
Fingering
,
Natural Tits
,
Massage
,
Member Fantasy
,
Family Roleplay